"MYLES"
MYLES HAS ARRIVED ON OUR SHORES


Myles gainned his American title with ease taking his last prestigious major win at the Reliant World Serious of Dog Shows in Houston, Texas. Myles carries some famous pugs in his pedigree such as Am CH Webb's Texas Tornado- ROM, Am CH Glory's Fantasy Tugboat Willy, Am Ch Sheffield's Jersey Bounce-ROM and many others.
***** Myles show career here in Australia has started on a high note with him taking BEST IN GROUP under Toy Specialist Mr T Couchman on the 10th June 2007 and his next show taking RUNNER UP BEST IN GROUP under Mrs V Morrow.*****

*******15th July 2007 Myles takes a 19 point BOB which gave him his AUSTRALIAN TITLE.*******
Myles gained his Australian title in 4 weekends of showing. A great achievement for a black pug
5th August Myles goes

BEST IN SHOW

at Kempsey and Macleay Valley Kennel Club under Toy Specialist Mrs S Smith.


October 2007 Myles goes

Reserve Challenge Dog and INTERMEDIATE IN SHOW

at The NSW PUG DOG CLUB under Toy Specialist Ms P Taplin

October 2008 Myles goes

Reserve Challenge Dog

at The Pug Dog Club of NSW under Miss L McRae.
From Miss L McRae
AM CH & CH.WRINKLES SHOW AND TELL (imp USA)
Another very nice dog, a black with a stunning headpiece, lovely sweet expression, width of muzzle and cushioning, well boned, strong cobby body, well ribbed, moved and showed well. Today he was my RDCC
Myles babies are doing well
Troycole Black Pearl Baby In Show at her very first show
Troycole Hopesdrkedition Baby In Show NSW Pug Club
Troycole Black Douglas a Puppy In Show winner
MYLES IS NOW PROVING HIMSELF AS A SIRE AFTER VERY LIMITED STUD WORK
Titled under Two years of Age
CH TROYCOLE BLACK DOUGLAS
CH TROYCOLE BLACK PEARL
HE WILL SHOW AND WE WILL TELL
Myles does not participate in the dogzonline pointscore
Myles is available at stud with strict non negotiable conditions and only to approved bitches.
Myles breed qualities have been appreciated by many.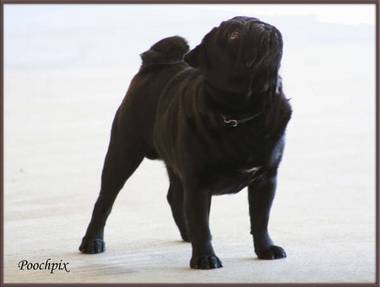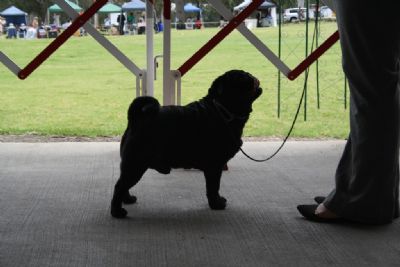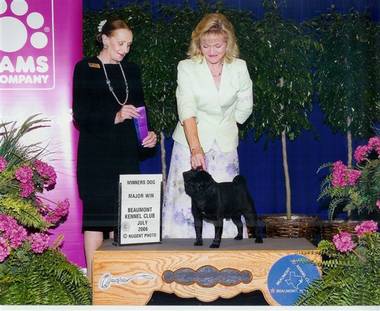 Contact Details
Joy Dunn
Newcastle, NSW, Australia
Phone : 02 49887078